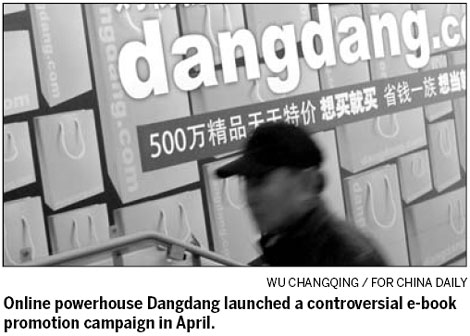 A number of noted publishers and copyright owners held a press conference in Beijing last week to protest a promotion campaign by China's largest online bookseller Dangdang.com more than two months ago.

As part of World Book Day, Dangdang organized a "zero yuan promotion" from April 17 to 19, when all copyrighted digital books on the portal could be downloaded for free.

Publishers delayed their reaction because Dangdang is an important distribution channel for their paperback books, said Bi Yu, vice general manager of ZZHW Digital Media Co, a subsidiary of China Writers Publishing House.

"More than 100 publishers planned to come (to the press conference), but in the end only a few came," he told the 21st Century Business Herald newspaper. "Many do not want to offend Dangdang."

All of 887 of ZZHW's digital books were sold at zero yuan during the three-day campaign, including many bestsellers and some by big-name writers such as Nobel Prize winner Mo Yan.

Ge Xiaozheng, head of China Writers Publishing House, said the e-book portal did not ask permission from copyright owners before it launched the campaign.

In traditional book retailing, bookstores often offer discounts or even give books away for free, but publishers don't protest "because bookstores have already paid publishers, and it's solely their business how to sell afterwards", explained Bi.

"But the sale of digital books is a different business model in which Web portals sell them first and share the profit with copyright owners according to a pre-agreed proportion," he said. "It means that if Dangdang 'sells' digital books at zero yuan, copyright owners get nothing."

Yu Meng, a senior manager at Dangdang's marketing department, said the aim of the campaign was to cultivate reading of genuine electronic materials.

"The digital book market in China is currently flooded with piracy," Yu said. "With the 'zero yuan promotion', Dangdang hoped that more people would experience the advantages of genuine books as it encouraged users to read more of them."

"But in the process of the campaign, there might have been some inadequate communication (with the publishers)," Yu added.

Liu Zhengcao, a lawyer at Beijing Jingyue Law Firm, said that because Dangdang offered a lower price than the cost of the digital books to compete with rivals, it engaged in unfair competition.

"If Dangdang fails to give us a reasonable explanation, we will consider filing a lawsuit against it in our next step," Bi said at the press conference.